Successful Product Roadmapping Begins with Buy-in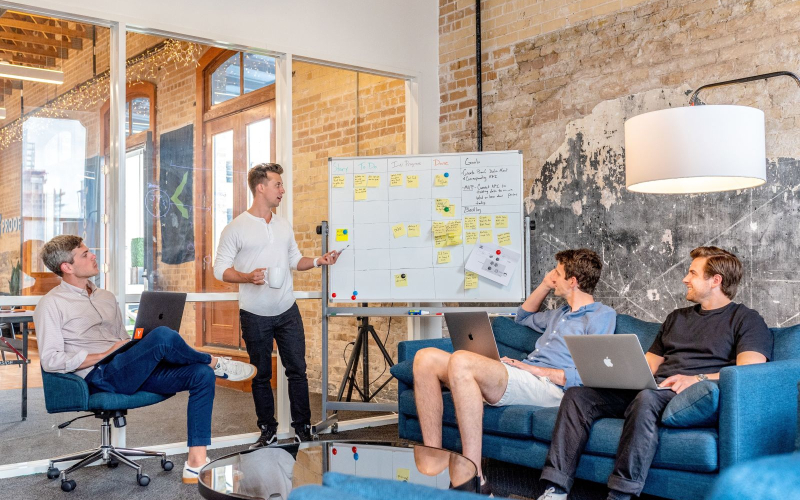 In this article, I'll go over successful product roadmapping. Most people are familiar with customer roadmaps. I'll cover other types of roadmaps as well and why you should use them.
Managing Expectations
I've grown to dislike the word's product management. Everyone knows what it means, right? To be honest, it can mean something different depending on the company or even the department within a company. Some days I feel like its meaning changes from moment-to-moment.
Things can get more confusing if your organization decides to use a product owner and a product manager. What are the expectations for each role? It depends on who's calling the shots.
I'm not big on job descriptions either. But how product management is defined often sets expectations. For example, what do these statements say about expectations?
Product Management is taking ownership of the product.
Product Management is getting the product to market.
Product Management is the customer's voice.
None of these statements is incorrect. All of them are incomplete. Yet, each one implies a different set of expectations.
Let's go over how you can manage these different expectations and deliver an insightful product roadmap.
Ownership Roadmaps
Ownership roadmaps are tough because getting buy-in is hard. I've found that in an ownership environment, the "go-to position" is — I own the product, not the team. That means, the product's success or failure is my responsibility, not the team's. My first task is to change that mentality. I have to convince the group to become invested in the product's success.
Every project is different because the mix of people is never the same. No one technique for getting buy-in is going to work every time. That's part of being a product manager – knowing what methods work in which situations.
I use pre-meetings a lot. I find them especially useful in organizations that still have silos. I identify silos such as marketing, sales, development, senior management, and customer support. I meet with individuals from each silo not to tell them about the product idea but to listen to how they respond to the idea.
I've found a few open-ended questions that can reveal a great deal about what it will take to get buy-in. I start with a question that is somewhat related to my product idea.
Competitor A just released a product similar to our product. Is there something we can tweak to differentiate?
It's rumored that competitor B is working on a product that does . . . Do you think that's possible
Customers are asking for a product like this? . . . Is that realistic?
Giving people something concrete to think about makes it easier for them to hone in on what they see as problem areas. I encourage people to contribute ideas in these pre-meetings because people are more likely to share ideas in small groups. With that information, I can begin to craft a high-level roadmap that everyone can buy into.
Monitor Roadmaps
Organizations may view product management's job as getting a product to market. All the other aspects of product management are secondary. In these organizations, development, and engineering tend to control the product cycle. Product management's task is to bring the technical idea to a successful conclusion.
According to Harvard Business Review, product managers do not have direct authority over the things needed to make their products successful — "from user and data research through design and development to marketing, sales, and support." The monitoring roadmap is a perfect example of that statement. It is one expectation that I find incredibly frustrating.
By the time I'm brought in as a product manager, the product is partially, if not completely, developed. Now, I'm faced with getting buy-in after the fact from the other departments involved. If I'm given a release date, I'm forced to calculate back from the release date, which usually means vital elements of the roadmap are skipped.
To get buy-in, I create a high-level roadmap from the information received from engineering or product development. I meet with them until I have as accurate a timeline as possible. Then, I share it with the other stakeholders in separate pre-meetings. I discuss what each group can do to make the product launch successful and what they need to make it happen. I do allow some time for constructive venting, but I keep it to a minimum. I must recognize their frustrations, but I can't let it become the focus of the meeting.
These separate meetings keep the negative comments localized, give me crucial data to make a more robust roadmap, and identify the pressure points for a successful launch. Taking the time to meet with each group makes it easier to get buy-in.
Customer Roadmaps
Customer roadmaps begin with customers. Before I put anything in print, I talk to customers. I can study the data and look at the numbers, but I can't watch the customer use the product or service. An excellent example of the value of customer interaction is Stanley Black & Dekker. Product teams watched customers use their tools at construction sites. They discovered that contractors had to use extension cords or gas generators to power the hand tools that used 20 volts. That observation resulted in the FlexVolt cordless power tools and battery packs, which has generated over $300 million in incremental sales since 2016.
When I have direct customer input, it is easier to get the rest of the team to buy-in. It's hard to argue with what the customer does or says about a product. Team members may not like it or agree with it, but they have to accept the customer's input. With customer data, I can draft a product roadmap that focuses on product features, priorities, and strategies. I can worry less about buy-in.
That doesn't mean buy-in is a given, but buy-in comes at a product-level and not at a process-level. I'm looking for team members to come to a consensus as to the product features that best meet the customer's needs and the company's goals and objectives. I'm asking team members to buy into the product features and the map to deliver those features. I'm not asking for a change in mindset.
Roadmaps
In the perfect world, all organizations would follow a customer-centric approach to product management. Unfortunately, many organizations are ineffective at creating a customer-centric culture. A Harvard Business study found that only 15% of business leaders believe their company is very effective at delivering what the customers want. Yet nine out of ten leaders said customer-centered business practices were essential to meeting customer needs.
As product managers, we are the customer's voice, and we need to make sure it is heard. That may mean neutralizing the mindset that comes with ownership and monitoring mapping with early buy-in. If the less effective mindsets can be replaced with a product-centered process, products will align with customers' wants and company success.